My February Top Three #WomenOwnedWednesday
is the perfect combination that gives meaning to the acronym WOW.
I have been doing a lot of shopping lately, on a budget of course, and have come across some amazing women owned stores and items to mention. I believe in support women owned businesses and black businesses. If we aren't uplifting each other in our endeavors what is the point of community? We need to build community through support and promoting, alright, that's enough for my solidarity and love pitch, let's get to the stuff in no specific order
1. Melanin Be Poppin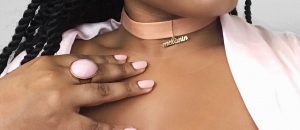 I usually don't wear chokers, but this one is wonderful. The melanin movement is important and I love representing it. These chokers are elegantly made and I wish I knew the owners name, either way I paired this with a pink shirt, but I also could see it with tan or turquoise. I bought Melanin blush by Melanin Be Poppin, but recently I noticed rustic pop…and I might have to make another purchase.
Rating: <3<3<3<3<3
2. Coloured Raine

I absolutely love this matte lip look. In the photo I am wearing Bachelorette. If you want a lip color that stays in place for a long period of time, this is the one! It also goes on smoothly. Coloured Raine is a company built by a woman named Lorraine. Her vision was to make a line the showcases diversity and self-expression. Bacherolette by Coloured Raine is my second favorite color in the bunch and defiantly a beauty for many skin tones.
Rating: <3<3<3<3<3
3. One Posh Closet
This is the hardest one for me to write about..because I am having separation anxiety about these Valentino heels. I do not actually own this item, but I did model for them. The heels fit perfectly around my feet and ankles. I wore it with an olive green dress. I absolutely adore One Posh Closet. The clothing they choose makes you feel power and bold. Owner Nicole Jennings [refer to side note for rant] is an amazing black woman who has a taste and eye for style, she is accompanied by three beautiful and talented women.
side note: while I am writing this I am basically freaking out!! Did not know her last name was Jennings, meaning the wife of Greg Jennings. Two years ago they came in to eat at Butcher and the Boar..I was a host there who was star struck
Valentino Garavani Green Floral Mesh Heels buy them at One Posh Closet
Rating: <3<3<3<3<3
Support, Love, Build the community around you!
Happy Women Owned Wednesday
Solidarity,