My Response To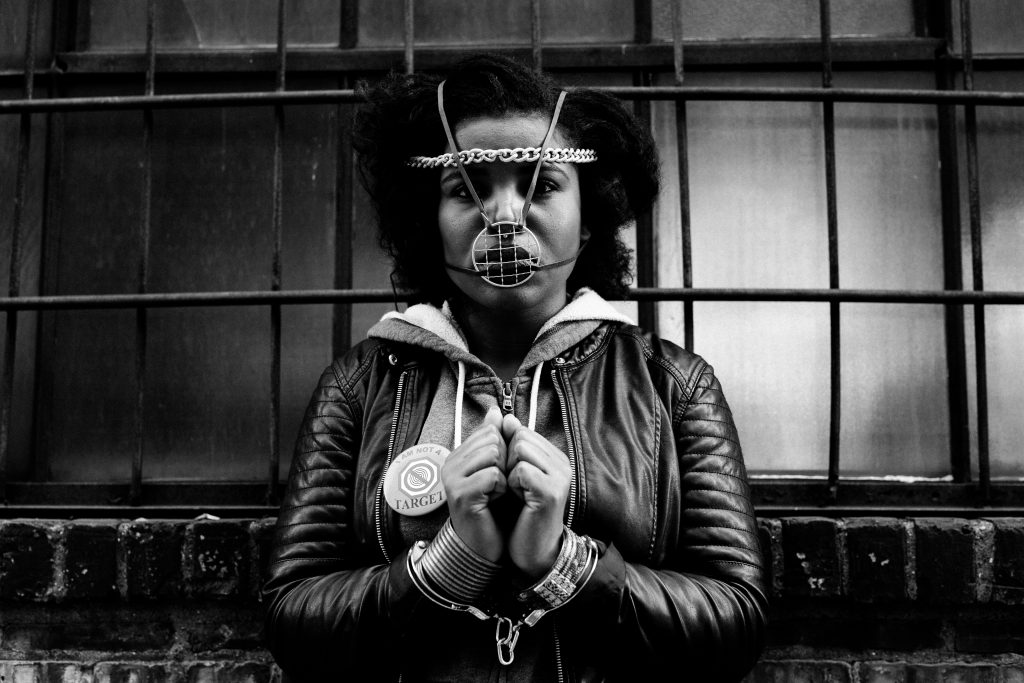 My response to having one month to celebrate my origin and who I am. My response to Ben Carson stating my ancestors were immigrants, my response to the nights I lost sleep over that woman I should have asked not to touch my hair. My response to sitting through a training taught by a white woman on structural racism followed by being shot down for speaking out against it. My response to my ancestors who might have had the slave muzzle assault their beautiful melanin. My response to my significant other's inability to celebrate my new found love for my black self. My response to every person who has ever crossed the street when I'm walking down it. My response to over 64,000 black women missing in America. My response to sex trafficking.  My response to my communities lack of solidarity and the reason why. My response to you voting for Trump. My response to all lives matter. My response to the murder of Jamar Clark. My response to police brutality. My response to the new Jim Crow. My response to Malcolm X on the black woman being the most disrespected woman.
Slave Muzzle History
When slaves took more food than they were allowed a mask was placed on their face. This was especially true when it came to house slaves. Another article I read tried to say it was to stop slaves from eating dirt, but I disregarded that.
Slave Muzzle in Fashion
In 2012 at Sao Paulo Fashion week, designer Adriana Degreas debuted her ridiculously racist swimwear line featuring a very white model wearing a black woman with the slave apparatus.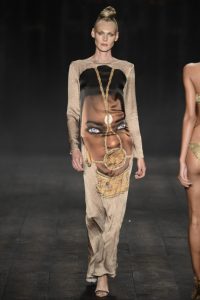 My experience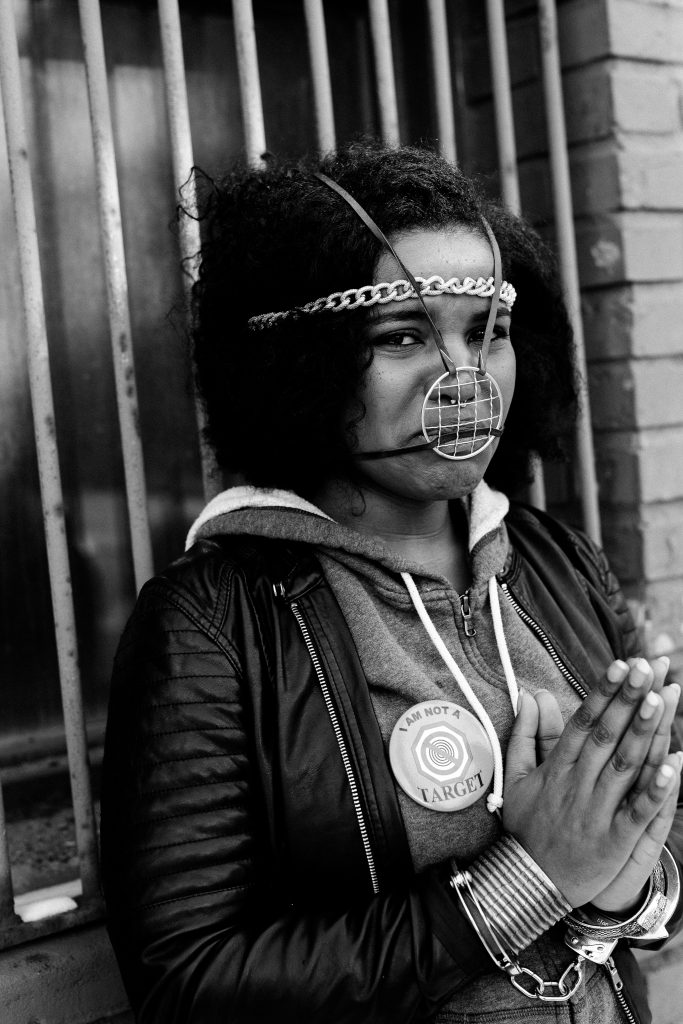 [Best_Wordpress_Gallery id="2″ gal_title="All Galleries"]

I got into activist work believing we would all come together and change the world. I got into modeling believing that I would feel more whole. Both were half reality half fantasy. Both were half manifested half never actualized.

Downtown Minneapolis, I wore this handmade slave muzzle. With the help of Malanda Jean-Claude and Toos Turkson I was able to get on the mask and handcuffs. It was one of those 40 degree days and I couldn't feel my hands, must have been how my ancestors felt at times in an environment far colder than their own.  Malanda took photos, Toos started playing "Glory"  and it all started to hit me….

two white people walked behind Malanda, glanced at me, and looked away. I immediately started bawling and contemplating..because above all, above everything, what it has meant for me to be a black woman is to hold my head up, but stay silent. To always be strong willed, but never strong minded. To fall back in the presence of a white man, white woman, or black man. This is my truth, this is my pain, this is my suffering. And you know what if you are upset, now you understand 1/1,000,000 of my existence as a black woman in America.

The most disrespected person in America is the black woman. The most unprotected person in America is the black woman. The most neglected person in America is the black woman. – Malcolm X

"Solidarity"

Thank you:

Malanda Jean Claude: A talented poet, writer, and all around artist I choose to photograph this piece. Probably one of the most dedicated people I've ever met.  Malanda and I shared an experience working for the racist company Bar Louie years ago. There is no person on earth I would have rather had be a part of this experience than you. Always appreciate you.

Toos Turkson: A delightful surprise, a low key humble incredibly talented, hilarious, woman. So mature and one of the most honest energies I have ever seen. Little did I know she would arrive and I am beyond thankful that she did. Your spirit was called on to come to this shoot because I think you needed the emotional outlet just as much as I sister. Love.
Also, donations are always accepted for POC. I don't need the money, but could use it to further donate to other orgs and start my business:
[wp_paypal_payment]